Hows the Market?? Here is your West Valley / Phoenix area Real Estate Market Report for April 2022. Well its finally here, the SHIFT we have all been waiting for, is this the start of the "bubble busting," " the market crash," "foreclosure market" Well lets take a look at what the heck is going on, and I can say, like I have said to my clients so many times, when it shifts, it shifts fast.
So whats the shift am I talking about? Jan-Mar was a frenzy, buyers were pressured more than ever to get into a mortgage with the threat rate hikes, multiple offers, waved appraisals, 20-50, even 70K over asking price. Listings selling within hours and some before they came on the market!! It was truly the craziest and busiest first quarter I have seen in 19 years!! Really insane! Then just like that  towards the end of April it hit….
Mortage interest rates took a jump have certainly caused a slow in demand in the market. We are seeing listings sit on the market a little longer, average days on market in most cities are up over 20 days. The rate hikes are going to knock many buyers out of the market, for example the median home price in Maricopa county is $470,000, in 2021 that payment would had been around $1800, today rates you're looking closer to $2800.
Another condition causing this slow is that home values have now exceeded the median household income for affordability in Maricopa. In order for a family to qualify for the median home price the income would need to be over $120,000 per year.
With listings sitting on the market longer, we are seeing increased inventory levels over same month last year in all but two West Valley cities. Buckeye up 68.42%, Tolleson 41.18% increased, Laveen up 39.68%, Waddell up 39.13%, Avondale up 34.88%, Goodyear  up 28.57%, Litchfield Park up 22.22%, Peoria up 14.04%, Surprise up 11.94%, and  Glendale up 8.06%. While El Mirage inventory is was down -14.71% and Phoenix also down -13.25%.
Another indicator of the shift happening was the closed sales for May came up low in all West Valley cities except one. Buckeye was up 10.8% compared to May 2021, leaving them 11.0% up for the year to date. Waddell down -27.6%, down -6.3% YTD, Peoria down -21.4% and -9.0% YTD, Surprise down -11.9% and slightly behind last years sales at -0.3%, Avondale was down -10.7% and down -11.9%YTD, Laveen down -9.9% MTD yet still up 17.6% YTD, Glendale down -7.9% MTD and down -6.0% YTD, Goodyear also down -7.9% MTD and down -2.8% YTD, Phoenix down -9.4% and -7.6% YTD, Tolleson down -8.3% and -14.7% YTD, El Mirage down -4.8% and -3.4% down for the year, also down -4.8% Litchfield Park however they are still up for the year 6.6%. Maricopa county down -8.8% for the month and -4.1% for the year.
So whats this all mean??? Well if you're waiting for the market to BUST, its just not happening anytime soon. Waiting for the foreclosures? Absolutely no sign of that in the near future whatsoever! 21 homes in all of Maricopa went to Trustees sale and all were purchased by private parties, zero went back to the lender. Waiting for prices to plummet? Sorry, demand is still too strong and supplies still way to low, what we will see is a slowing of the huge increases month over month. Realistic sellers will price at market value, not increased over what the last home just sold for. We are seeing price decreases, however these are the aforementioned sellers that started too high to begin with. Just remember we are still in a "frenzy market"  extreme sellers market, and many buyers with cash aren't affected with interest rates. It is still expected for home values continue to rise, just at a slower pace.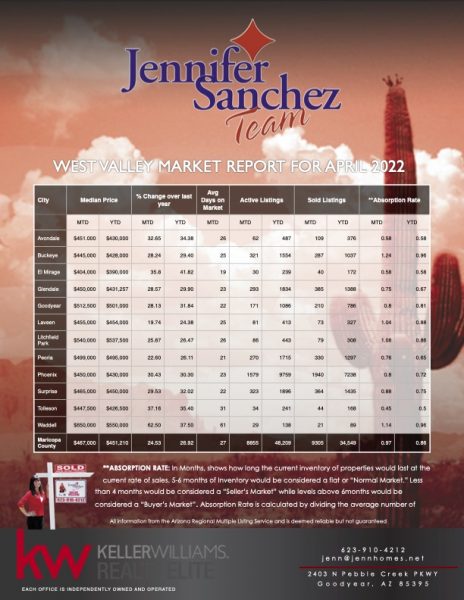 Tags: Buyers, Market Condition, Market Reports, Sellers