Hows the Market?? Here is your Phoenix / West Valley area Real Estate Market Report for February 2023. Well January did see an up tick in sales across Maricopa County, that being compared to the slow sales the 3 months prior, where it was more like crickets. However the sales were not enough to beat last years BOOM of the first quarter, as only two west valley cities had increases in sales over last year. Tolleson, did see a boom with a 54.3% for the month and an increase over last year of 26.0%. Avondale saw an increase in closed sales in February of 4.0% however still down -20% for the year.
With sales are down compared to last year, median home prices continue to dip last month, now all west valley cities are down compared to last year. Litchfield Park -11.18% down from last year, El Mirage -10.62%, Laveen -10.22%, Peoria -8.89%, Phoenix -8.33%, Buckeye -6.28%, Glendale -5.38%, Tolleson -5.0%, Avondale -4.33%, Surprise -3.93%, Waddell -4.12%, and Goodyear -1.22%.
Whats incredible is to see the inventory increases in the west valley city. Avondale is up 333.3% over last year, Surprise up 312.332%, Buckeye up 308.05%, Tolleson up 283.78%, Peoria up 234.85% Waddell 232.97% increase, Goodyear up 207.69% Glendale 197.01%, Phoenix up 191.43%, El Mirage 185.96% up, Litchfield Park increase 161.90% and Laveen is up 138.89%.  Maricopa county is up 205.88% over last year. WOW! Crazy inventory just sky rockets right?!?! Well actually all these increases just mean that we are now in a more balanced market. This supply increase just means that home values will maintain more with affordability. Thats a very good thing. Maricopa county has a huge demand for housing, so the inventory increasing will also help with that demand.
MARKET INSIGHTS:  Sales have been sluggish compared to the last few previous years, however we are starting our peak season, now that temperatures are warming up we will see what next month holds.
I hear a lot, "I see prices coming down," and yes that is true, however the nice, move in ready homes are still selling and selling quickly. Even had a couple with multiple offers this past month. The homes that need work are the homes that are having to reduce. Buyers are pickier than ever, because they can be.
Buying, Selling, Investing or need a Property Manager, we would love the opportunity to serve you! As always we are here for you even if you just have real estate questions!
Give us a call!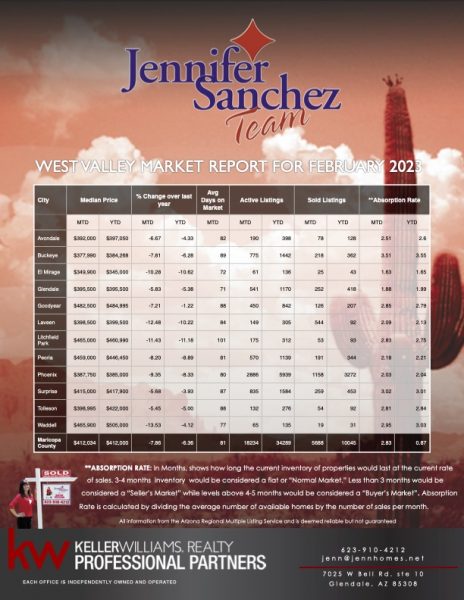 Tags: Buyers, Market Condition, Market Reports, Sellers